Click Click Click
Previous Post
The Archives
The Bloggers
Credits



Thursday, July 9, 2009
Safely Landed and Under Self-Quarantine




Alhamdulillah.



Setelah berholiday selama 4 hari 3 malam di

Krabi Island

, my friends and I arrived back in Malaysia yesterday evening. We landed safely at LCCT Airport, around 2.45pm and we were ten minutes ahead of schedule. Syukurlah semuanya selamat.

And guess what? Sepatutnya, all of us akan start bekerja semula today, 9th July 2008. Unfortunately, due to H1N1 yang melanda dunia sekarang ni, as a precaution, all of us have to be

self-quarantine

for two days as per request by managamenet. Yang tak bestnya, self-quarantine selama dua hari ni akan ditolak from our own Annual Leave. Hampeh btol.

Setelah dicampur, tolak, darab, bahagi dengan hari cuti mingguan aku dan juga self-quarantine leave ni, aku akan sambung bercuti sehingga Monday next week dan akan mula bekerja pada hari Selasa minggu hadapan. Omak aiii, never ever in my working life cuti sampai seminggu direct terus. Adoiii, stress plak rasanya cuti lelama gini. Daripada tak sakit, boleh jatuh sakit jadinya kalau dah bosan cuti lama camni. Huhuhu..

Apepun, lega rasanya bila dah selamat sampai ke tanah air sendiri. Betul kata orang, hujan emas di negera orang, hujan batu di negara sendiri, lebih baik negara sendiri. Tapi, trip kali ini tetap merupakan antara pengalaman menarik yang dapat aku perolehi. I really had a great time together with all of my friends. Uceh, ayat stok karangan UPSR btol. Skema abis. Hahahaha.

Opsss, takleh gelak lelebih.

I am still under self-quarantine.

Huhuhuhu.

Kena brenti kejap and will update later. PC aku ni wat hal plak. Lemau semacam je.
See ya!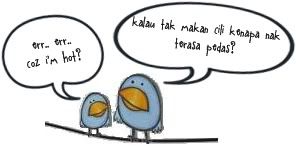 dicakar oleh cepotet @ 12:00 PM
Beben
Beben, sebuah blog yang baik dan setia. Tak penah menyakiti aku tapi sentiasa rela untuk disakiti. Tidak berjantina dan tidak bernyawa. Sangat pendiam dan sangat memahami. Kalau rasa penulisan aku di sini kurang enak bagi kalian, bolehlah klik butang X belah kanan atas browser anda. Datang tak berjemput, pergi juga tak dihalau. oh yea, did i tell y'all that i hate stalkers? so, please back off. Mekasih.
If God wanted us to talk more than listen, He would have given us two mouths rather than two ears.
~Ken Blanchard ~
Best viewed with
Cepotet
Me, Myself & I
I am just a simple girl with a simple life. I love nobody except my Mak, Abah and my family. Simplicity is the new complex.


email untuk perkara yang penting je. kalau rasa tak penting, sila jangan email. pasti tidak akan dilayan. saya bukan artis mahupun superstar.
Bla.. Bla.. Bla..
Reminder