Click Click Click
Previous Post
The Archives
The Bloggers
Credits



Friday, June 26, 2009
Aku Kemengantukan
I can't even begin to explain how sleepy I am right now.



I haven't sleep the whole night yesterday coz I'm afraid I couldn't wake up to work this morning. Mati lah kan kalau lewat lagi. Dah la aritu masuk lambat sebab keta wat hal. Harus kena keji plak kang.

Semalam, I just spent the whole night practicing my guitar on my bed while looking up to the glorious stars through the window pane. Suddenly, how I wish if I am still a little girl right now. Mesti sangat seronok kan? Tak payah nak serabut pening kepala bagai tentang semua permasalahan dunia.

Talking about permasalahan dunia, one of my opismate dah kena suspected H1N1 and unfortunately, beliau dengan selambanya telah datang ke opis semalam. Siap boleh borak ape segala ngan kitaorang semua. Mujurlah after kitaorang find out pasal the H1N1 issue yang membabitkan one of her fren and since beliau pun seems looks like cam orang sakit je since last week, I called my boss and terus instruct her gi wat blood test and etc. Harapnya, moga takde ape ape la kan. InsyaAllah..

Aduiii.. ngantuknya. Tapi, abis keja nanti, kalau terus balik, cam rugi plak. I really can't wait for the party tonite. Aku nak tunggu part makan je pehtu aku blah.

Oh, makan.. makan.. makan.. yummy!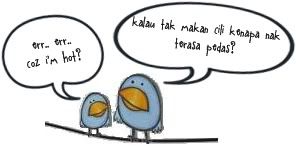 dicakar oleh cepotet @ 2:51 PM
Beben
Beben, sebuah blog yang baik dan setia. Tak penah menyakiti aku tapi sentiasa rela untuk disakiti. Tidak berjantina dan tidak bernyawa. Sangat pendiam dan sangat memahami. Kalau rasa penulisan aku di sini kurang enak bagi kalian, bolehlah klik butang X belah kanan atas browser anda. Datang tak berjemput, pergi juga tak dihalau. oh yea, did i tell y'all that i hate stalkers? so, please back off. Mekasih.
If God wanted us to talk more than listen, He would have given us two mouths rather than two ears.
~Ken Blanchard ~
Best viewed with
Cepotet
Me, Myself & I
I am just a simple girl with a simple life. I love nobody except my Mak, Abah and my family. Simplicity is the new complex.


email untuk perkara yang penting je. kalau rasa tak penting, sila jangan email. pasti tidak akan dilayan. saya bukan artis mahupun superstar.
Bla.. Bla.. Bla..
Reminder