Click Click Click
Previous Post
The Archives
The Bloggers
Credits



Friday, July 24, 2009
Suratan Atau Kebetulan?

Sambil dok membelek belek passport tadi, baru aku terperasan sesuatu..

Last year, I was away to Bandung on 5th July - 8th July 2008 with my bebeh. Coincidently, my trip to Krabi with my opismate bebaru ni juga adalah pada tarikh dan bulan yang sama. Cuma tahun je yang berbeza. Memang tak plan langsung. Teruja kejap aku. Hiks.



Cakap pasal percutian ni kan, kalau diberi pilihan antara Bandung dan Krabi, nah, without think twice, of course I will definitely choose Bandung.

Reason why? Hmm.. will update later. It's already 3.03am now. Assignment aku pun dah almost suku nak siap. Aku nak tedo and rehat kejap. Hari ni masuk keja kul 8 pagi. Takut ngantuk plak kat opis. Huhuhu..

Nanite all..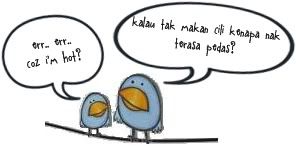 dicakar oleh cepotet @ 3:30 AM
Beben
Beben, sebuah blog yang baik dan setia. Tak penah menyakiti aku tapi sentiasa rela untuk disakiti. Tidak berjantina dan tidak bernyawa. Sangat pendiam dan sangat memahami. Kalau rasa penulisan aku di sini kurang enak bagi kalian, bolehlah klik butang X belah kanan atas browser anda. Datang tak berjemput, pergi juga tak dihalau. oh yea, did i tell y'all that i hate stalkers? so, please back off. Mekasih.
If God wanted us to talk more than listen, He would have given us two mouths rather than two ears.
~Ken Blanchard ~
Best viewed with
Cepotet
Me, Myself & I
I am just a simple girl with a simple life. I love nobody except my Mak, Abah and my family. Simplicity is the new complex.


email untuk perkara yang penting je. kalau rasa tak penting, sila jangan email. pasti tidak akan dilayan. saya bukan artis mahupun superstar.
Bla.. Bla.. Bla..
Reminder