Click Click Click
Previous Post
The Archives
The Bloggers
Credits



Thursday, October 8, 2009
Raya Photos

Bismillahirrahmanirrahim.

I know it has been a very long time since I have written. Sukunya kerna malas. Suku lagi disebabkan ketandusan idea and another separuhnya kerna I was so bogged down with my workload. I have just been a very busy

young

lady. Normal lah, busy dengan kerja. Inilah akibatnya kalau bekerja yang memerlukan target dan menepati dateline. Nah, stop talking tentang kerja. Kerja memang takkan pernah habis. Itu memang sudah pasti kan? Huhuhuhu.

How's your raya celebration? Mine was great. Alhamdulillah. Bercuti selama 11 hari starting from 18th September until 28th September 2009 dan berehat dengan riang ria bersama family tak bersyukur lagi? Anyway, thanks to Mr Bos kerna membenarkan saya bercuti lama. Toche.. toche..

Hmm.. sampai ke saat ini, saya masih lagi kekurangan idea untuk men-taip sebenarnya.

Oh ya, by the way, this year raya, temanya adalah warna kuning. Mulanya cam hampeh gak bila dipikirkan but since it's my mum's fav color, layankan je lah. Mujurlah tak seteruk yang aku gambarkan. Hiks.

Layan gambar je lah jom!




Tak banyak pun picca yang di-snap untuk this year raya. My lovely younger sister yang berada di Sarawak nun pun tak dapat balik beraya bersama. Well, ini kes lambat beli flight tiket lah sebab mulanya beliau dah dapat transfer ke Semenanjung tapi disebabkan tahun ni adalah tahun akhir beliau, so banyaklah projek yang harus disettlekan, makanya, habiskan je lah terus kat sana.

Sedih jugak sebenarnya bila tak dapat berkumpul semua sekali. Pagi raya, waktu tengah bersiap siap, meleleh jugak lah airmata aku ni bila dengar lagu Air Mata Syawal nyanyian Siti Nurhaliza. Sayu weiii.. Dik, you know how much I love you kan? Study rerajin tau. Cupcup.

Time to go now. Nite.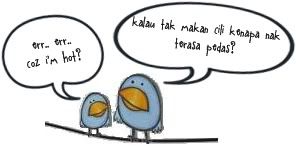 dicakar oleh cepotet @ 3:02 AM
Beben
Beben, sebuah blog yang baik dan setia. Tak penah menyakiti aku tapi sentiasa rela untuk disakiti. Tidak berjantina dan tidak bernyawa. Sangat pendiam dan sangat memahami. Kalau rasa penulisan aku di sini kurang enak bagi kalian, bolehlah klik butang X belah kanan atas browser anda. Datang tak berjemput, pergi juga tak dihalau. oh yea, did i tell y'all that i hate stalkers? so, please back off. Mekasih.
If God wanted us to talk more than listen, He would have given us two mouths rather than two ears.
~Ken Blanchard ~
Best viewed with
Cepotet
Me, Myself & I
I am just a simple girl with a simple life. I love nobody except my Mak, Abah and my family. Simplicity is the new complex.


email untuk perkara yang penting je. kalau rasa tak penting, sila jangan email. pasti tidak akan dilayan. saya bukan artis mahupun superstar.
Bla.. Bla.. Bla..
Reminder